Revamp Your Outdoor Space With These Useful Tips.
Warm, sunny weather lends itself to an outdoor lifestyle, and that means making our outdoor spaces as fun as those indoors! In Western Australia, we're blessed with a climate to enjoy most of the year, and our lifestyles are very outdoor-centric. For that reason, it's vital to be as house proud of your outdoors, as you are indoors!
If you're going to host a party, a get together, or simply plan to chill out in the fresh air, you need a space that can not only entertain, but can provide relaxation too. Functionality is equally as important, as well as the whole space generally looking fantastic. Of course, if you're planning on selling your home any time soon, you need to place as much importance on the outside as you do indoors. So, for both purposes, whether to enjoy the sunshine and host a party or two, and also to increase your home sale value, here are a few suggestions of what you can do to give your outdoor space a bit of oomph!
Plan it Out and Hide The Undesirables!
You can't change everything about your outdoor space, e.g. perhaps there is a built-in area that is simply going to cost too much to renovate. In that case, it's about hiding what you don't like. A lick of paint can revive most things, such as an old garden shed or a fence, or you could get creative and add a few trinkets here and there to give it a fashionable appearance. Change the overall colour scheme, and generally bring it up to date. A few painted wooden screens around items you can't move can also not only hide the object, but also give you another space to create something special, e.g. adding mirrors, which reflect the light and show a little contemporary flare.
On top of that, weeding and general garden maintenance is a huge key point. Services for tree pruning in Perth can be utilised to help you redesign your garden outdoor space, and to tidy up any sections which may need a little extra TLC.
Create a shaded spot to retreat to
Not everyone wants to sit in the full sun all the time, and if you have children then it's vital to give them an area to retreat to, not only for comfort but also for their health – we're all aware of sun safety here in WA. Installing a pretty pergola is a great way to create a shaded sanctuary, whilst also adding a plus point to your homes' sale value. A veranda with a trailing plant running around the sides looks beautiful when maintained property.
If you want to seriously upgrade your property, how about a swimming pool? You can go large or small, depending on how much space you have, but a swimming pool will certainly raise the price tag on your home.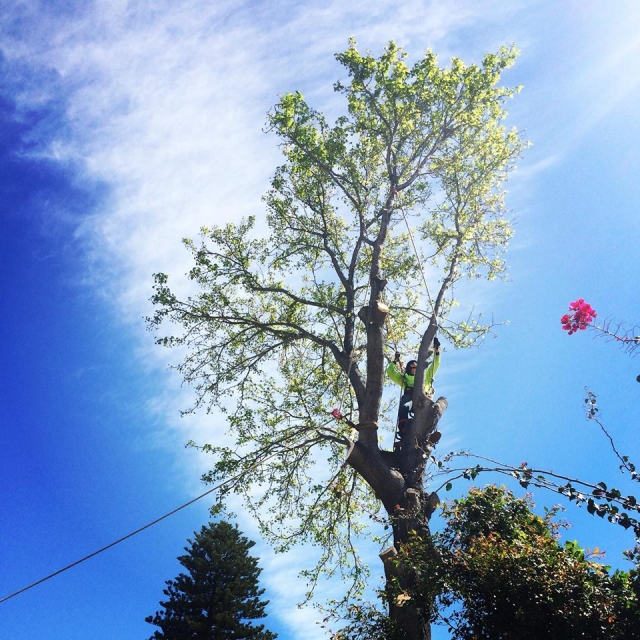 Winter warmth is important too
Whilst our Perth summers can be flaming hot, winters can be cool, and if you're going to be sitting outdoors until the later hours of the evening, you need to be cosy. Nobody wants to sit outside and shiver, so think about ways you can add warmth to your space, to give you a year-around garden. A fire pit is a very fashionable and modern way to achieve this, or a spot where you can have regular bonfires. However, ensure the bonfire remains are cleared regularly otherwise it can look rather ugly, whilst also potentially harming any plants or trees you have around – this is where maintenance is key. A fire pit is therefore a much easier and more practical way to contain a fire but also look fantastic and be functional at the same time.
Ensure you have enough space
Nothing looks very attractive when it is crammed together, so think about how you can arrange everything to give you extra space. You will need enough outdoor seating space to entertain your friends and family, so perhaps think about adding decking to your space. Not only does this make your garden larger, but it's also very pleasing on the eye, and gives you the best spot for barbecues or dining. Timber is a great option because it not only looks great, but it is hardwearing too.
Add real class to your space with contemporary seating, and if you want to lay in the sun, a sun lounger is a fantastic buy, with a truly functional side too.
Dining in the outdoors
Outdoor dining is a fun way to enjoy a gathering of friends and family, whether summer or winter. Install a table and chairs where you have space to eat, and perhaps think about adding a barbeque area, or maybe even a bar. This can obviously be removed when the weather is particularly bad, but having the space means that you have flexibility for your entertainment choices.
However you choose to revamp your outdoor space, remember that basic upkeep is really the most vital component of it all. You can add in all singing, all dancing furniture and paint it whatever colour you want, but if you don't ensure you regularly cut your grass, prune your trees and shrubs, and keep up to date with seasonal planting, the whole space will be affected negatively. Of course, this also means that the value of your home will diminish.
If you're looking to upgrade your outdoor garden space and you are looking for advice on maintenance and upkeep, give Perth Arbor Services a call on (08) 9220010, or visit our office at 40 Forrest Street, 6050, Perth. You can also contact us for information via our contact form. We can give you a range of choices to look into, and provide you with a free, no obligation quote on your outdoor space needs.